With Higher Rent, Less Than 4 in 10 Pre-Pandemic City-Dwellers Have Returned
Written by: StorageUnits.com Editorial Team - Published: Nov 6, 2023
Published: 3/29/2022
Key Findings
1 Fewer than four in ten former city residents have returned
2 Of those who have, the largest percentages are also paying more rent and living with more roommates than they were pre-pandemic
During the early months of the pandemic, the flight from cities was well-documented, with major metropolitan areas like New York, Chicago, and San Francisco losing the highest percentage of residents during 2020. However, recent data has shown that this urban exodus is coming to a standstill and in fact, has been reversing over the past few months.
We surveyed 1,300 Americans who moved away from a city during the first year of the pandemic to see if they are actually returning to city life and how their living situations have changed in light of an increasingly tough rental market.
Only 38% of Former City Residents Have Returned
Despite reports that Americans are flocking back to major cities, fewer than four in ten former city residents have returned to urban areas after leaving during the first year of the pandemic.
The greatest percentage of city residents (34%) left during the earliest months of the pandemic, March through June 2020, when densely populated areas were being hard-hit by the spread of the virus. Of the 38% who have since returned, the return rate was roughly even from April 2021 to March 2022.
When asked why they chose to return to the city, the most common reason given was that respondents had to return for work (55%) followed by a general preference for city living versus the suburbs or country (46%).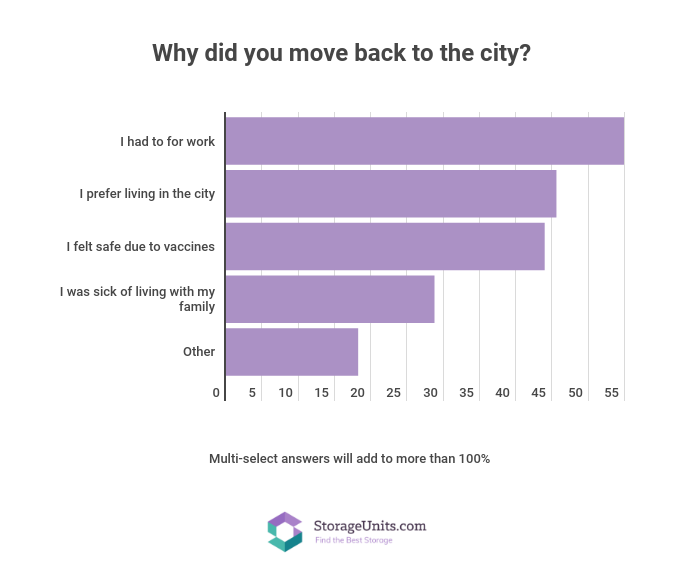 51% of Returnees to the City Are Paying More for Housing
Due to factors such as inflation, people relocating post-pandemic, and a competitive home-buying market, rents in many cities are going up. Of the 38% of respondents who have returned to the city, more than half (51%) say the monthly cost of their living situation is higher than it was when they lived there pre-pandemic.
Despite paying more in rent, 35% of respondents also say they are living with more roommates now than they were previously. In fact, 44% of this group reports living with three to four other people, and 20% say they have five or more roommates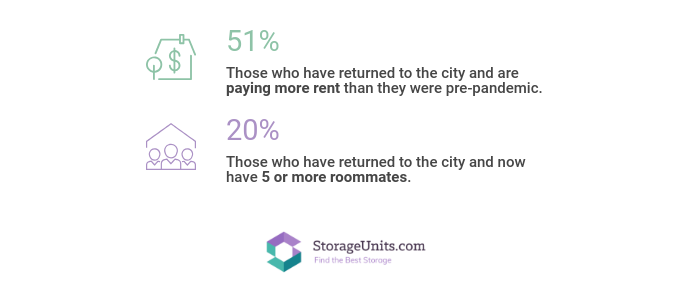 53% Still Have Belongings in a Storage Unit
Although only 38% of former city residents have returned, rising rents are already making for a competitive rental market leading to a scramble when residents do return. A total of 53% of returnees say they still have items in storage, which only serves to increase their moving and living costs.
65% of those who did have to rent a storage unit say they didn't have housing lined up before heading back to the city, so had to pay to store all their belongings while they searched for new housing. Additionally, 22% of respondents who rented a storage unit say they had to downsize and couldn't fit all of their belongings in their new home.
Despite well under half of pre-pandemic city-dwellers returning to metro areas, housing remains very competitive. Many are downsizing, paying more in rent, and living with more roommates than they were before the pandemic. It remains to be seen if a greater percentage of those who left will end up returning in light of these difficulties.
Methodology
This survey was commissioned by StorageUnits.com and conducted online by the survey platform Pollfish from March 15 to March 17, 2022. In total, 1,300 participants in the U.S. were surveyed. All participants had to pass through a screening process to ensure that they moved away from a city during the first year of the pandemic.