Senior Moving Guide: Storage and Housing Assistance
Written by: StorageUnits.com Editorial Team - Published: Sep 22, 2023
Moving a household is no easy feat for anyone, young or old. Whether it's time for you to move on from the home you've been in for decades or your lease is up and you need a change, moving as a senior comes with its own set of unique challenges. Our guide covers advice on how to know you're ready for a move, what to look for in a new home, and how to transition smoothly. We'll also talk about how to find the best storage options and what kind of moving companies have tailored their moving services to the specific needs of seniors.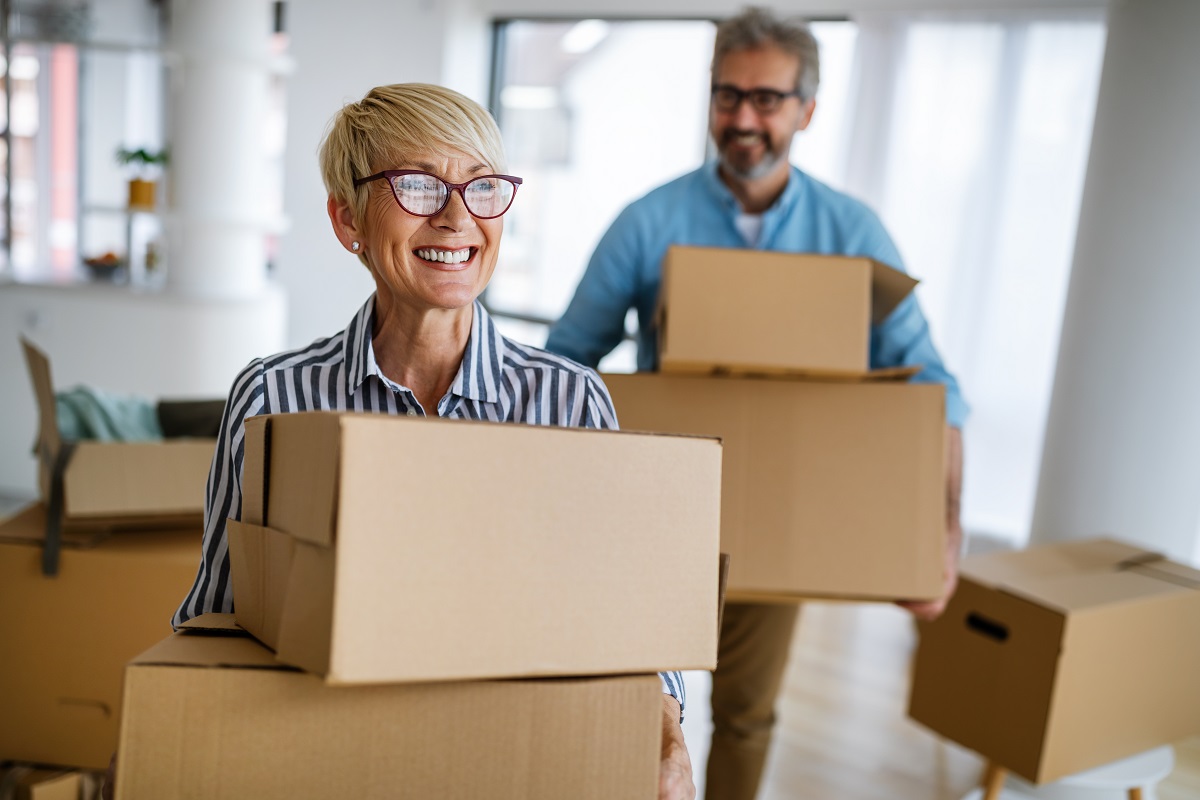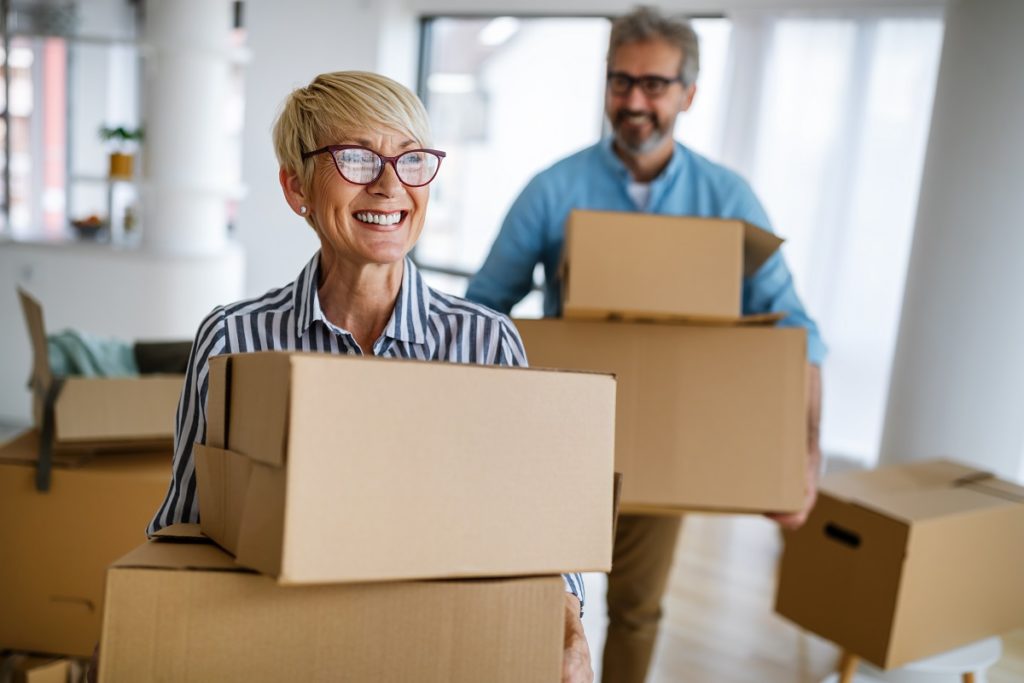 Moving Advice for Seniors
The signs it's time to downsize
Although it can be hard to admit that the time has come to move on from one home to the next, there are some tell-tale signs that indicate it's the perfect timing:
Signs It's Time to Downsize
Maintenance has become a burden
Mowing may have been an easy task to complete each week, but now it may prove to be more work than you're physically able to do. You could hire someone to do maintenance work for you, or you might consider a home with less upkeep.
Friends and family are far away
Perhaps all the people you used to know and interact with have moved out of the area and you're feeling isolated. Relocating to be closer to your loved ones will put you in a position to attend more family functions and friend outings.
Rooms aren't being used
Especially if you're living in a home that used to house more people, there are sure to be spaces that aren't being used anymore. If you're only entering a room to dust it, you're paying for more space than you need.
Years of living have created clutter
Sparsely used rooms can easily turn into storage closets for all the items you've accumulated over the years. It might be time to clear away the clutter and carefully store what you really care about keeping.
The price is right
If you've been in your home for years, it has likely appreciated in value and stands to make you a decent profit. Consult with your realtor to get an accurate price analysis and know your options.
What to look for in a new home
Once you're ready to look for a new place to call home, it's important to know what it is that you want and need. Be sure to consider not only your current needs but any that may arise in the near future. Let's go over a few things that should not be overlooked during your search for a new home:
What to Look for in a New Home
Location
For most people, a good location is one of the top priorities when choosing a new place to live. Close proximity to friends, family, and healthcare can make all the difference when settling into a new community. Also consider being near enough to your favorite grocers and storefronts to take a short walk or ride for shopping trips.
Accessibility
Another factor to consider is the ease of daily use and access. Single-story homes and ramp entrances allow for easy maneuvering during your time at home, eliminating the risk that comes with using stairs. Some homes may come with these accessibility features installed. If not, think about the space you would need to install your own customizations when you move in.
Size
Although you will likely be downsizing into a home that better fits your current lifestyle, make sure you still have plenty of space in the areas where you'll be spending the most time. Downsizing doesn't have to be about going as small and minimal as possible. Having a large bedroom with
Moving in with loved ones
If you're considering combining households with a family member or group of relatives, you'll need to take some time to think about all that would entail. It can be a great option for people who are open and willing to blend their lives back together or to start a new adventure. Here are a few questions to answer individually and then discuss as a family:
Questions to Consider Before Moving in with Loved Ones
Do you have a healthy relationship?
Carefully consider if the relationship you have will be conducive to living under the same roof. Although no one is perfect, you need to be able to coexist and work as a team in your day-to-day interactions. Establishing boundaries, knowing what the expectations are, and being transparent will set everyone up for success.
Will your relative be able to help you?
Even if you do move in with a relative and share a home with them, they might not have the capacity to help you in all the ways you need. If you're needing help with meals and transportation, designing a schedule or daily plan will create a line of communication and develop a routine that works for everyone.
What kind of care do you need?
If you need medical care at home, your family members can receive special training to provide that for you. You can also hire someone to come into your home and give you the care that you need. Being clear on what you need will make sure that all parties involved will know what to expect and how to help.
How much space will you have?
Determine the logistics of who will be living where and if there needs to be any kind of rules or boundaries around space. Will you be sharing the kitchen and laundry? Is there a kitchenette apartment attached to the main home? Make sure you have a space of your own to get some privacy when you need it.
Do you need financial support?
Moving in with family members is a great way to lessen the financial burden of owning or renting out your own place. If you're able to pool your resources, all the better. Consider looking into Medicaid for care services or monthly stipends if you are needing extra financial help.
Safety improvements to consider
Whether you're moving into your own place or with a relative, there are some safety measures you can employ to improve the overall comfort of your home as an aging adult. As we mentioned above, keeping accessibility in mind is a great place to start. Zero-threshold walkways allow for free movement within the house on foot or wheelchair without the risk of tripping. Installing extra shoulder-level storage options decreases the need to bend down or reach high up to grab items. Removing obstacles and making daily tasks a little easier creates a predictable environment and prevents injuries and falls.
Bathrooms can be a precarious place for seniors with the potential for slippery soapy floors and navigating in and out of tubs or showers. Walk-in bathtubs or showers with seats are a good option for comfortable bathing without the hassle of climbing over the edge of a tub. Many people choose to install grab bars near their shower or toilet to help with changing their position from standing to sitting and back up again. Non-slip mats or a non-slip food texture can be applied to hard surfaces to prevent any chance of slipping or losing balance.
Look into safety options with the use of new technology. Medical alert solutions have given a sense of independence back to people who need an extra layer of support at home. One safety feature available to seniors is a personal emergency response system (PERS). These devices range in price and complexity, but most come with a fall-detection sensor and an easy-to-press button in case of emergency. Some devices are connected to 24-hour call centers while others can be routed directly to 911 or emergency contacts. Even if you're not tech-savvy, these companies have designed their equipment with seniors in mind.
Tips for a seamless senior move
Create a simpler moving process and reduce your stress level by keeping a few things in mind:
Tips for a Seamless Senior Move
Go at your own pace
If you have the ability to move over a longer period of time, take advantage of it. Try not to rush yourself out of your home. It will take time to go through belongings, donate things you're ready to part with, and strategize how you will move everything to a storage unit or a new location.
Create a schedule and stick to a plan
Make the most of the time you have. Take a minute to map out all of the steps it will take to make the move. Plan out which rooms you want to sort through and pack up first. Doing one small task each day will help you feel less rushed and short on time.
Hire or acquire some help
Moving companies are a great way to hire a bit of muscle to do the heavy lifting during a relocation. If you can afford to hire them to pack up your things and transport them to your new home, that can make the process even easier. Family members are also a great resource to turn to for help with the details of a move.
Keep your belongings safe
Depending on how long it takes you to finalize the move, you'll need a way to keep your things secure. If you're loading up a moving truck over time, be sure to have a lock for the trailer when you're not actively packing things in. This is where having a storage unit during the move can come in handy.
Make your new house a home.
Get the most out of your new location by creating a comforting and familiar environment. Set up your favorite furniture and decorations as soon as you can. Have senior safety features installed and ready to use so you can start enjoying your new home and making it feel like your own. 
Self Storage Units for Seniors
The unique needs of seniors
Seniors who need storage are going to have different requirements than a college student looking to store their stuff for the summer. This stage of adulthood often comes with a lot of accumulated furniture, heirlooms, and hand-me-downs. You'll likely need more space than the standard 100-square-foot storage unit.
For people transitioning from one home to another, a storage unit will most likely be a temporary solution. It can provide a place to safely store everything you want to take with you to your new home. If you're making a move from a home to an apartment or assisted living, storage may be a great long-term solution to house all of the extra furniture and items you still want to keep but can't fit into the new space.
Because moving is so labor-intensive, hiring movers or getting a few helping hands from your family is the way to go. If you can't get help with your move from relatives or friends, check out our list below of senior-specific moving companies and "silver certified" movers who specialize in helping aging adults move.
Things to consider for senior storage
When looking for the perfect place to store your belongings, you'll need to think about which features are most important to you. As a senior, your priorities will be different than most. Here's a list of considerations to get you started:
Things to Consider for Senior Storage
Climate control
If you plan on storing items that may be sensitive to extreme changes in temperature or humidity, you will want to opt for climate-controlled storage. These units provide an unchanging environment for delicate items that may be affected by weather.
Larger units for large items
When storing belongings in a move from one multi-bedroom home to the next, you will need a unit big enough to house it all. A larger unit will be more expensive, so you'll have to plan your budget accordingly.
Ability to downsize later
Luckily, most facilities offer units in a variety of sizes. If you start your lease with a large unit to store everything in your home, you will be able to downsize into a smaller unit for the things you decide to keep in storage. 
Month-to-month lease
If you're not sure how long you'll need a storage unit or you have a quick move, opt for a month-to-month lease to avoid getting locked into more time than you need. These short-term contracts make it easy to terminate when you need to.
Valet service option
Some facilities provide a type of valet service that helps with unpacking moving trucks and loading up your unit. This gives seniors a more independent option, allowing them to take control of their move.
What to look out for
There are plenty of reputable storage companies out there, but there are bound to be a few you want to steer clear of. Sometimes it's hard to tell just by looking at a website if the location and facility is right for you, so you will want to make time for on-site visits. Here are a few red flags to recognize during your storage search:
Red Flags to Watch Out For
Long-term leases
Unless you are absolutely positive you will need storage for six months to a year, it's best to stick with month-to-month leases. This gives you the flexibility to end your lease at a moment's notice and prevent paying for more time and space than you really need.
Lack of security
It's important to know that your belongings both new and old will be kept safe when you're not there. Opt for a site that has 24-hour surveillance, gate codes, and on-site management.
Poor lot design
The facility lot should be large enough and laid out in such a way that a moving truck can easily pull up to your unit and unload. Driving by the facility should give you a good idea of how easy it will be to maneuver vehicles on the lot.
Inadequate construction
If a storage unit isn't properly sealed, your items will pay the price. Check for puddles of standing water, moisture stains, and any sign of the elements being able to get through the seals in a unit.
Limited size selection
Especially if you plan to downsize your unit at some point, it's a good idea to avoid storage facilities with a one-size-fits-all selection of units and pricing. Variety allows for flexibility and the potential to save a bit of money.
Where to find self storage units for seniors
The hunt for your storage facility can begin online. A simple internet search for local storage facilities will bring up most of the locations available near you. If you need a unit that will be closer to your new home, begin your search centered in that area. Ask a relative or friend who may be closer to the facility than you to stop by and do their own investigating. Review each website and collect information on all the amenities, restrictions, pricing, and unit sizes available.
Comparison shopping, plus questions to ask
Once you've compiled a good list of potential facilities, it's time to make a few phone calls to get more information. You can schedule a tour or show up unannounced to see how the site is run when they are not expecting visitors. Be clear about why you're there and that you're shopping around the area. Use this time to really get a sense for the location, security measures, and overall size and layout of the facility. Prepare questions beforehand to ask the manager during your visit. Here are some example questions you can use:
Does the site offer extra-secure storage options for valuable items such as jewelry collections, art, or military medals? What about insurance on these items?
Does this facility report unusual events, such as fires, leaks, or break-in attempts to residents in a timely manner? How will you be informed of such events? Are police reports or other formal documentation of these events available for customers to see?
If a senior client falls behind in their payments, how long is the grace period before the facility seizes their stored items?
Are on-site staff available to assist seniors with limited mobility? Will they help carry items out? Are there fees for this service?
Does this facility limit the frequency of visits?
Has this facility ever had an issue with bedbugs, toxic mold, or other hazardous materials that could damage a senior's cloth furniture, clothing, or other personal items?
Can vehicles be stored at the location? Is there a parking space right next to the rented unit or are there units large enough to accommodate vehicles and personal belongings? Is there a discount available for this?
Can people other than the listed renter, such as a senior's next of kin or caregiver, collect items or access the site without the senior being present? How are those permissions granted and documented?
Moving Companies With Specialization Assisting Seniors
Caring Transitions
Caring Transitions

Each owner of a Caring Transitions franchise is a senior Certified Relocation and Transition Specialist (CRTS) dedicated to providing smooth life transitions for aging adults. The company makes it easy for seniors who are downsizing or just looking for help with a move. Caring Transitions provides services including finding new accommodations, sorting through household items, and creating an online auction.
Solomon & Sons Relocation Services
Solomon & Sons Relocation Services

Voted one of the best moving companies in South Florida in 2018, Solomon & Sons Relocation Services offers senior-specific moving services to their local aging adults. They provide help with packing your items, shipping vehicles, furniture disassembly, unpacking, and furniture reassembly. Solomon & Sons offers free estimates, custom moving plans, and even has multi-language services.
Moves for Seniors
Moves for Seniors

Moves for Seniors is a leading senior moving company providing life transition services to their customers for the last 15 years. Their Senior Move Specialists and licensed vendors work together to facilitate the moving process for aging adults. They offer a variety of service types to choose from, providing unique solutions for equally unique situations.
Cheerful Transitions
Cheerful Transitions

Cheerful Transitions is a senior relocation service truly catering to older adults. Although they provide the usual list of services any other moving company offers, they also ensure their customers are taken care of on an emotional level. They help seniors with liquidation, sorting, house clean out, utility set up, and new home decoration.
Other available options
All of the companies we listed above provide special services for seniors who need unique help with their move. Standard moving companies may not have senior-specific services, but you can check with the National Association of Specialty & Senior Move Managers (NASMM) to see if movers are "silver certified." Here's a list of some well-known moving companies:
Senior Moving Resources by State
Alabama
Senior Moving Companies:
Senior Moving Resources:
Government Resources:
Alaska
Senior Moving Companies:
Government Resources:
Arizona
Senior Moving Companies:
Arizona Senior Moving Company | Website
Mentors Moving & Storage | Website
Above & Beyond Movers | Website
Senior Moving Resources:
Government Resources:
Arkansas
Senior Moving Companies:
Senior Moving Resources:
Government Resources:
California
Senior Moving Companies:
Senior Moving Resources:
Government Resources:
Colorado
Senior Moving Companies:
A Move Handled With Care | Website
Homegrown Moving Company | Website
Galt Moving & Storage, Inc. | Website
Senior Moving Resources:
Government Resources:
Connecticut
Senior Moving Companies:
Senior Moving Resources:
Government Resources:
Delaware
Senior Moving Companies:
Senior Moving Resources:
Government Resources:
Florida
Senior Moving Companies:
Senior Moving Resources:
Government Resources:
Georgia
Senior Moving Companies:
Senior Moving Resources:
Government Resources:
Hawaii
Senior Moving Companies:
Senior Moving Resources:
Government Resources:
Idaho
Senior Moving Companies:
Senior Moving Resources:
Government Resources:
Illinois
Senior Moving Companies:
The Professionals Moving Specialists | Website
Wolley Movers | Website
Hollander Storage & Moving Company, Inc. | Website
Senior Moving Resources:
Government Resources:
Indiana
Senior Moving Companies:
Senior Moving Resources:
Government Resources:
Iowa
Senior Moving Companies:
Adamantine Spine Moving | Website
No Worries Professional Moving & Storage | Website
AAA Movers | Website
Senior Moving Resources:
Government Resources:
Kansas
Senior Moving Companies:
Senior Moving Resources:
Government Resources:
Kentucky
Senior Moving Companies:
Senior Moving Resources:
Government Resources:
Louisiana
Senior Moving Companies:
Keep It Moving Moving Services | Website
Northshore Moving Company | Website
Benson Dupre Moving Services | Website
Senior Moving Resources:
Government Resources:
Maine
Senior Moving Companies:
Senior Moving Resources:
Government Resources:
Maryland
Senior Moving Companies:
Treasure Moving Company | Website
McKendree Moving & Storage | Website
Town & Country Movers, Inc. | Website
Senior Moving Resources:
Government Resources:
Massachusetts
Senior Moving Companies:
Senior Moving Resources:
Government Resources:
Michigan
Senior Moving Companies:
Senior Moving Resources:
Government Resources:
Minnesota
Senior Moving Companies:
Senior Moving Resources:
Government Resources:
Mississippi
Senior Moving Companies:
Senior Moving Resources:
Government Resources:
Missouri
Senior Moving Companies:
Senior Moving Resources:
Government Resources:
Montana
Senior Moving Companies:
All Lanes Moving & Storage | Website
Senior Moving Resources:
Government Resources:
Nebraska
Senior Moving Companies:
Senior Moving Resources:
Government Resources:
Nevada
Senior Moving Companies:
Senior Moving Resources:
Government Resources:
New Hampshire
Senior Moving Companies:
Senior Moving Resources:
Government Resources:
New Jersey
Senior Moving Companies:
Senior Moving Resources:
Government Resources:
New Mexico
Senior Moving Companies:
Senior Moving Resources:
Government Resources:
New York
Senior Moving Companies:
Divine Moving and Storage | Website
Verrazano Moving and Storage | Website
Syracuse Moving Company | Website
Senior Moving Resources:
Government Resources:
North Carolina
Senior Moving Companies:
Senior Moving Resources:
Government Resources:
North Dakota
Senior Moving Companies:
Senior Moving Resources:
Government Resources:
Ohio
Senior Moving Companies:
Senior Moving Resources:
Government Resources:
Oklahoma
Senior Moving Companies:
Senior Moving Resources:
Government Resources:
Oregon
Senior Moving Companies:
Senior Moving Resources:
Government Resources:
Pennsylvania
Senior Moving Companies:
Senior Moving Resources:
Government Resources:
Rhode Island
Senior Moving Companies:
Gentry Moving & Storage | Website
Arpin of Rhode Island | Website
Fresh Start – The Moving Crew | Website
Senior Moving Resources:
Government Resources:
South Carolina
Senior Moving Companies:
Senior Moving Resources:
Government Resources:
South Dakota
Senior Moving Companies:
Senior Moving Resources:
Government Resources:
Tennessee
Senior Moving Companies:
Senior Moving Resources:
Government Resources:
Texas
Senior Moving Companies:
Senior Moving Resources:
Government Resources:
Utah
Senior Moving Companies:
Senior Moving Resources:
Government Resources:
Vermont
Senior Moving Companies:
Senior Moving Resources:
Government Resources:
Virginia
Senior Moving Companies:
Able Moving & Storage, Inc. | Website
Quality Moving Services | Website
HuberWilmot Moving & Storage | Website
Senior Moving Resources:
Government Resources:
Washington
Senior Moving Companies:
Senior Moving Resources:
Government Resources:
West Virginia
Senior Moving Companies:
Senior Moving Resources:
Government Resources:
Wisconsin
Senior Moving Companies:
Senior Moving Resources:
Government Resources:
Wyoming
Senior Moving Companies:
Senior Moving Resources:
Government Resources: